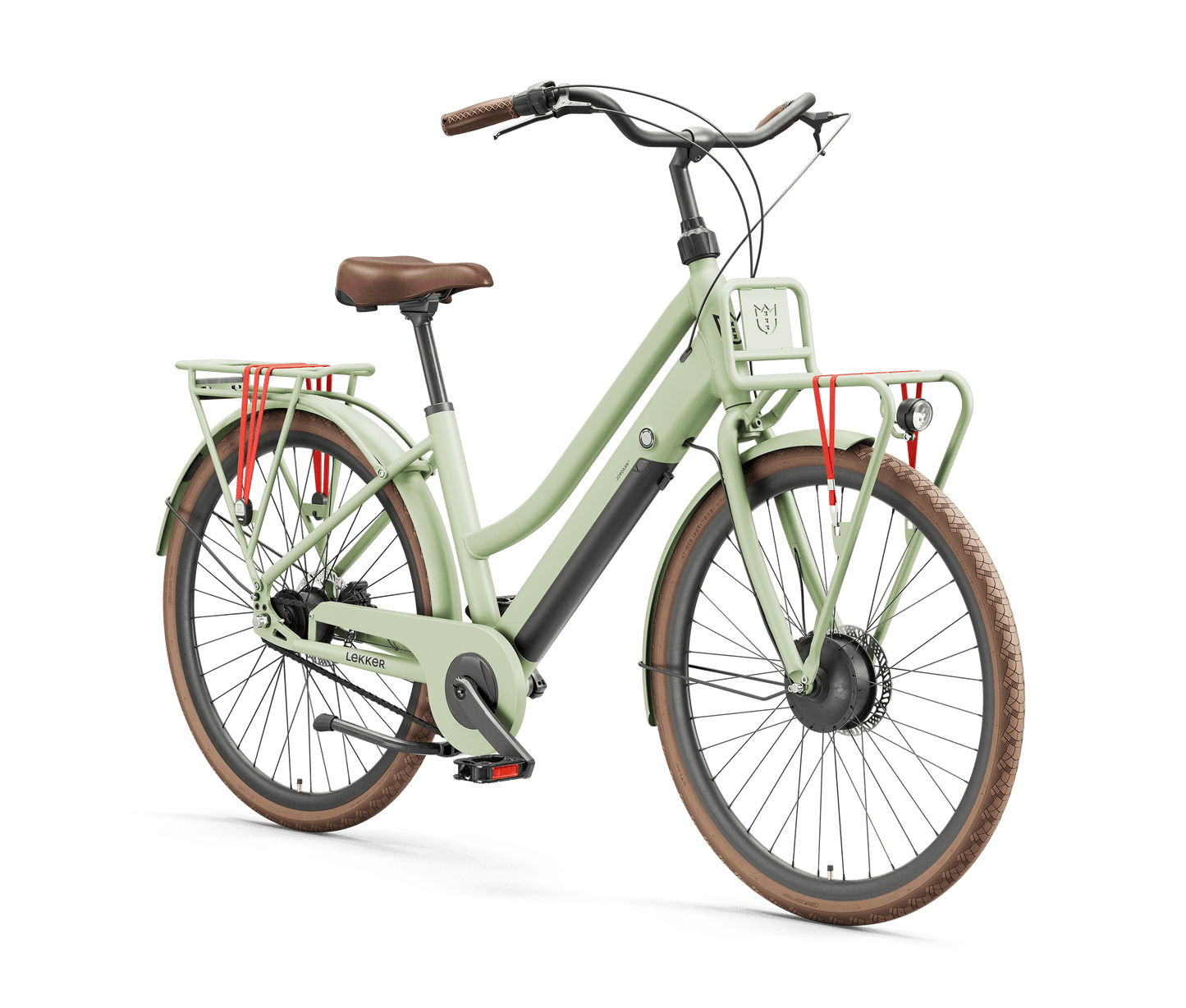 Convenient
Racks and Stacks
Practical
Made around you
Comfortable
Smooth and seamless
Stylish
Modern classic design
Jordaan Urban eBike
The all-new Jordaan Urban 2024 model is now available with an introductory discount - $300 off. 

Pure Dutch bike design from front rack to back, the Jordaan Urban ebike combines classic design with all the trimmings. Combining comfort, practicality and power, it's the perfect eBike to get out and see the city (and be seen on).

$2,798.00
Brand new 2024 model
$300 introduction offer discount
Shipping in 1-8 business day

$2,798.00
Brand new 2024 model
$300 introduction offer discount
Shipping in 1-8 business day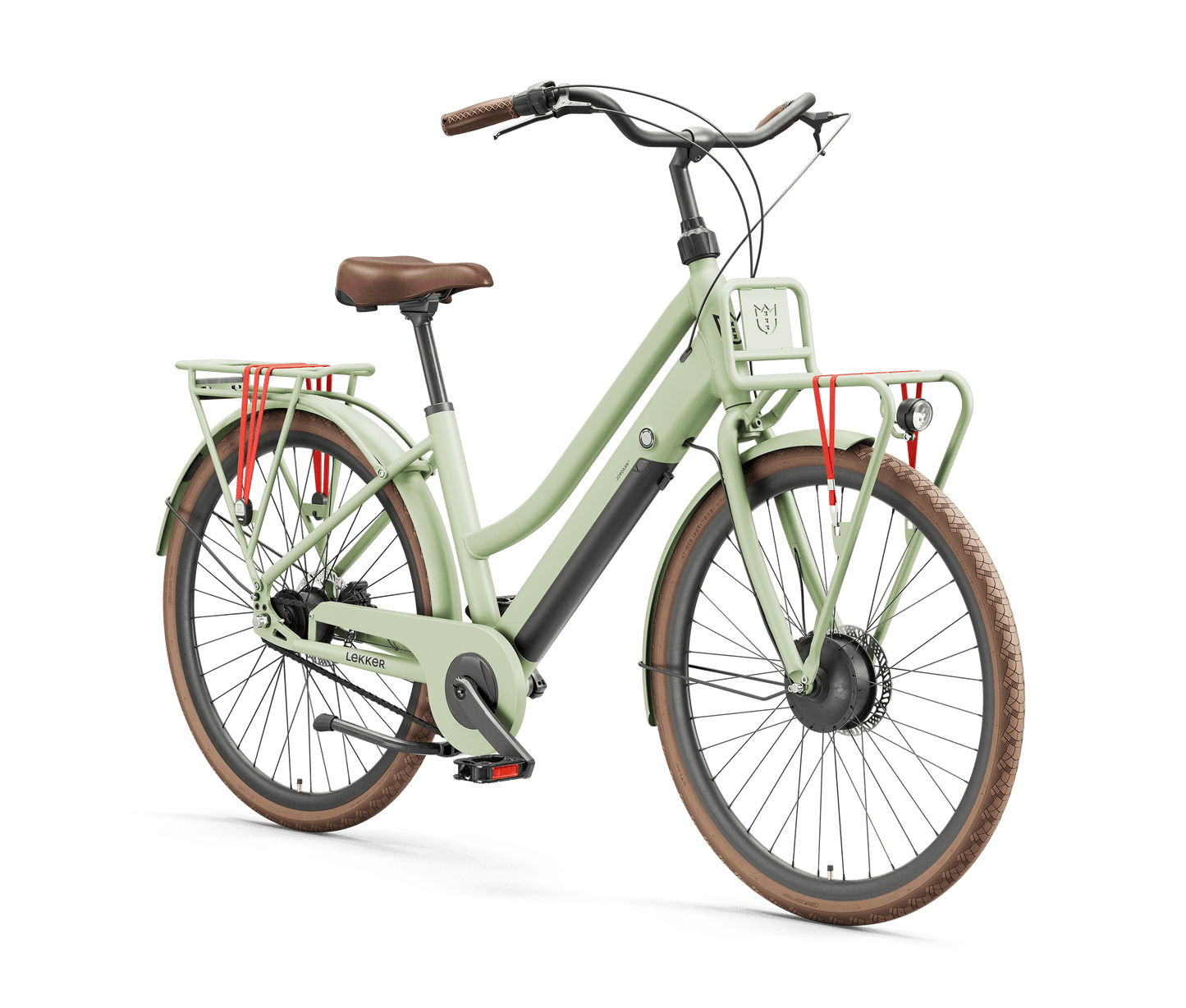 Convenient
Racks and Stacks
Practical
Made around you
Comfortable
Smooth and seamless
Stylish
Modern classic design
Jordaan Urban eBike
Color:

Battery:

Frame Size:

Gear:
You haven't selected any accessories.
Shipment and payment
You can select your shipment and payment preferences on the next screen.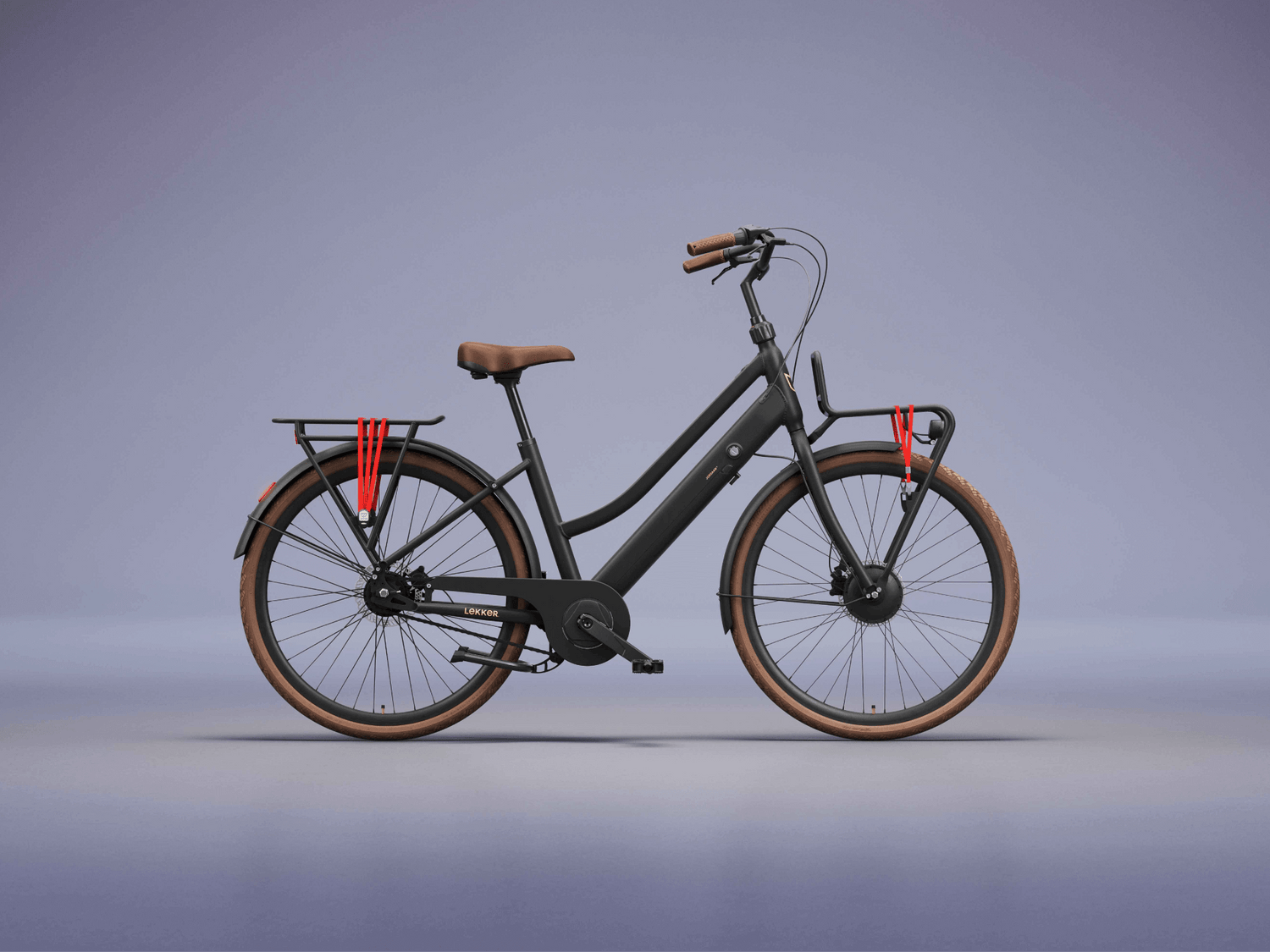 Practically Perfect
Classic Dutch design, perfected for the modern rider. With phone connectivity, a removable battery, front and rear racks included, handy double kickstand and handlebar lock (say goodbye to swinging handlebars) - the Jordaan Urban eBike puts the fun in functional.

*Please note: the rear light will be integrated into the rear carrier, not the fender.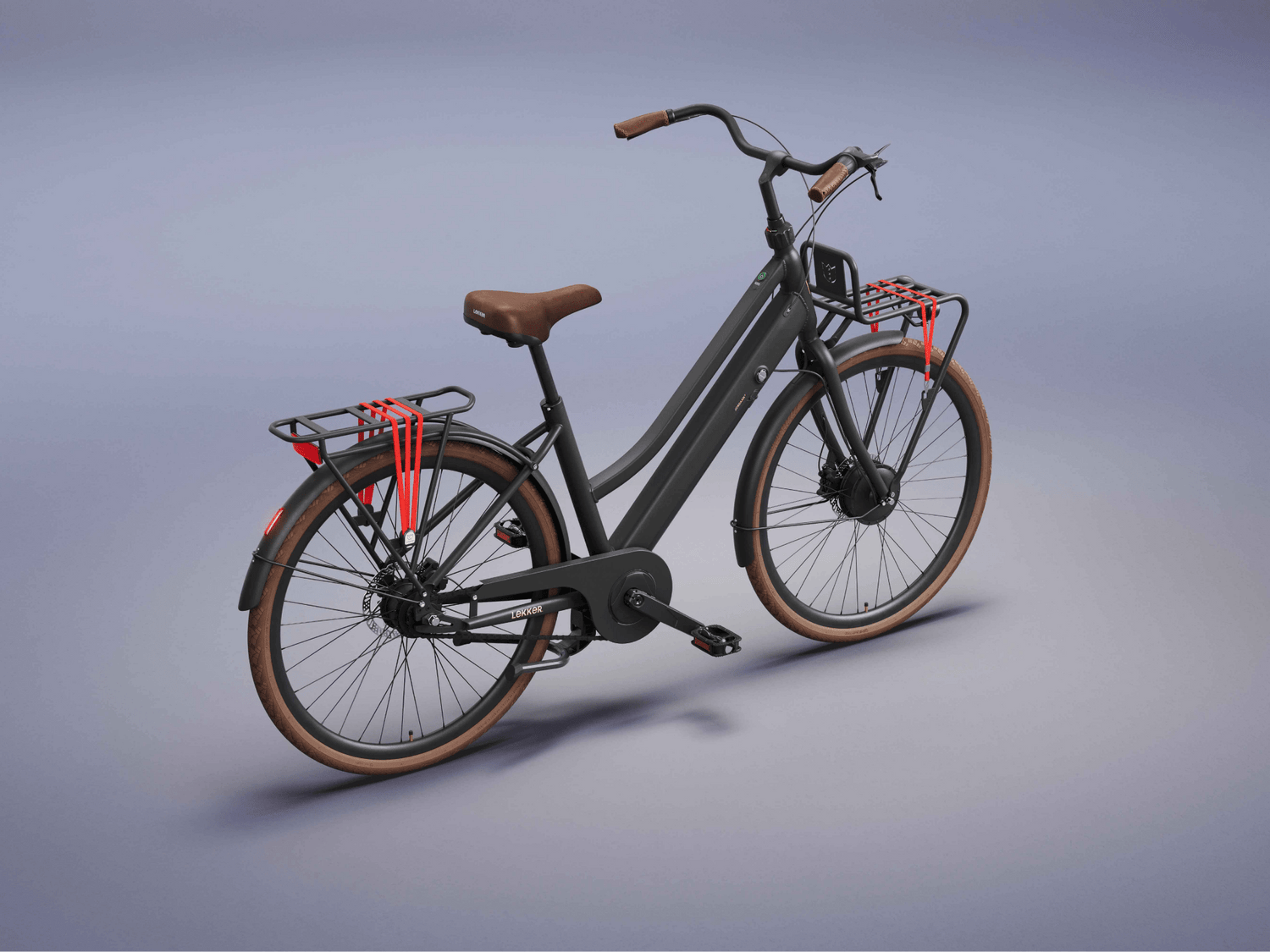 Ride Comfortable
A step-through frame. A nice, straight, upright seating position (no hunching over handlebars here). A padded saddle (because you're going to want to spend forever on this bike, we promise). An adjustable handlebar stem for maximum comfort.
Removable battery

Choose from two batteries, ride up to 100 km on a single charge. Take it off, take it indoors, charge it up, head off. Beautifully simple. Easy to replace, easy to upgrade. And with Bluetooth connectivity, you can monitor your battery's health via the Bafang mobile app.

Front Hub Motor

Smooth and silent, the front hub motor has 30Nm of torque and a rotation sensor offering a powerful pulling sensation as you hop on and go. And with 3 levels of power assistance to choose from and bluetooth connectivity you'll be in full control of both your speed and riding stats.
Shimano 7-speed hub

Make uphill climbs feel like downhill cruises, with 7 (internal) gears to choose from.

Bluetooth Connectivity

The all-new Jordaan Urban now comes with Bluetooth connectivity. With a button neatly integrated into the bikes top-tube, it's sleek and simple to get on and go. Turn it on, choose between three levels of power assist, and turn it off at the simple tap of the button. Plus, you can check out your rider stats and battery health via Bafang's mobile app.
Motor
Bafang Bafang Front hub motor, 30Nm Torque
3 assistance levels
25km/h assistance
FM G311.250 V/D
Display
Bafang DP E171 Button
Charger
MDA257 102 - 240v / 42V 2A
Connectivity
Bluetooth connectivity Connect with Bafang GO app
Removable battery
370Wh capacity (10.5Ah, 36V). Range: Up to 70km 500Wh capacity (14.5Ah, 36V). Range: up to 100km
Lights
Front Light SPANNINGA X&O 30
Rear Light Spanninga GLOW XE
General
Frame Aluminium 6061 Step-through frame
Fenders Aluminium
Fork Aluminium 700C front fork
Wheels
Rims Aluminium 36H, double walled
Tyres CST Zeppelin 28" x 1.75"
Brakes
Front Rotor TEKTRO 160mm
Rear Rotor Shimano 160mm
Brakes Premium Hydraulic Disc brakes
Cockpit
Stem Quill-type
Grips VELO VLG-649 Brown
Headset XRS100 Headset lock
Handlebar ZOOM, Width 630mm, 25,4mm*22.2mm
Drivetrain
Chainwheel ProWheel 40T
Chain KMC Anti-rust Chain
Belt -
Front Sprocket ProWheel 40T
Rear Sprocket Shimano 18T
Crankset
Bottom Bracket JY BB73-68
Cranks ProWheel 170mm
Pedals Wellgo VP-628
Gearing
Shifter Shimano Revoshift with clickbox
Gear Hub Shimano Nexus Internal geared hub,
7 speed 32H
Accessories
Experience Box Includes toolset, reflectors and bell
Carriers Aluminium front carrier with max. load of 15kg
Aluminium rear carrier with max. load of 25kg
Kickstand RUIHONG
Size chart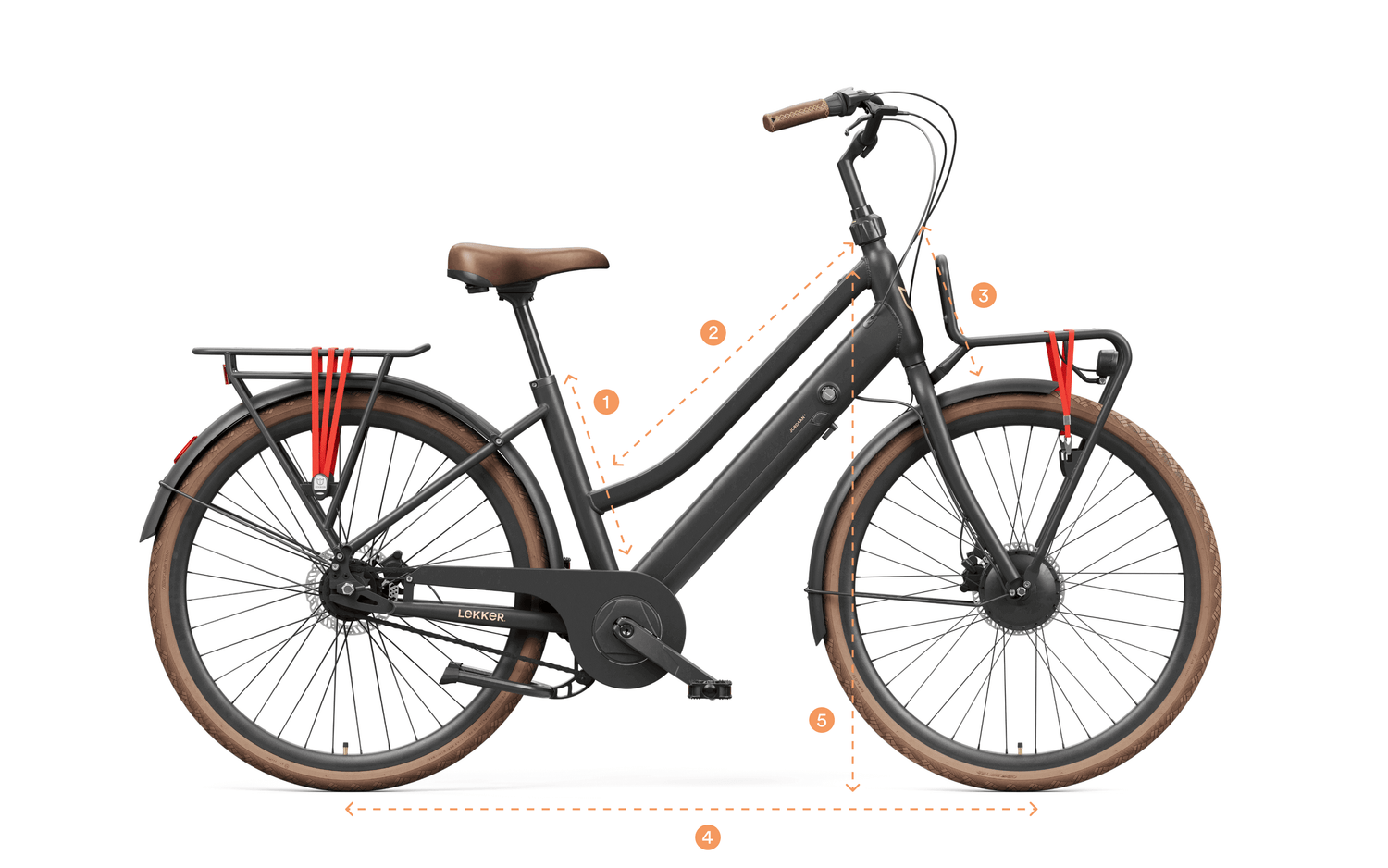 Height range For riders 155-195 cm
Compare Jordaan eBikes
Motor Bafang Front hub motor, 30Nm Torque
Removable battery Up to 100km
Display DP E171 Button
Bluetooth connectivity Connect with Bafang GO app
Tyres CST Zeppelin 28" x 1.75"
Weight 26.0 kg
Brakes Premium Hydraulic Disc Brakes
Gears Shimano Nexus Internal geared hub,
7 speed 32H
Drivetrain Chain
Motor Bafang Mid motor, 80Nm Torque
Removable battery Up to 100km
Display Seekrun
Bluetooth connectivity -
Tyres CST Zeppelin 28" x 1.75"
Weight 27.0 kg
Brakes Premium Hydraulic Disc Brakes
Gears Enviolo CT Hub - 310%

Drivetrain Gates CDX Belt
Got questions? We've got you.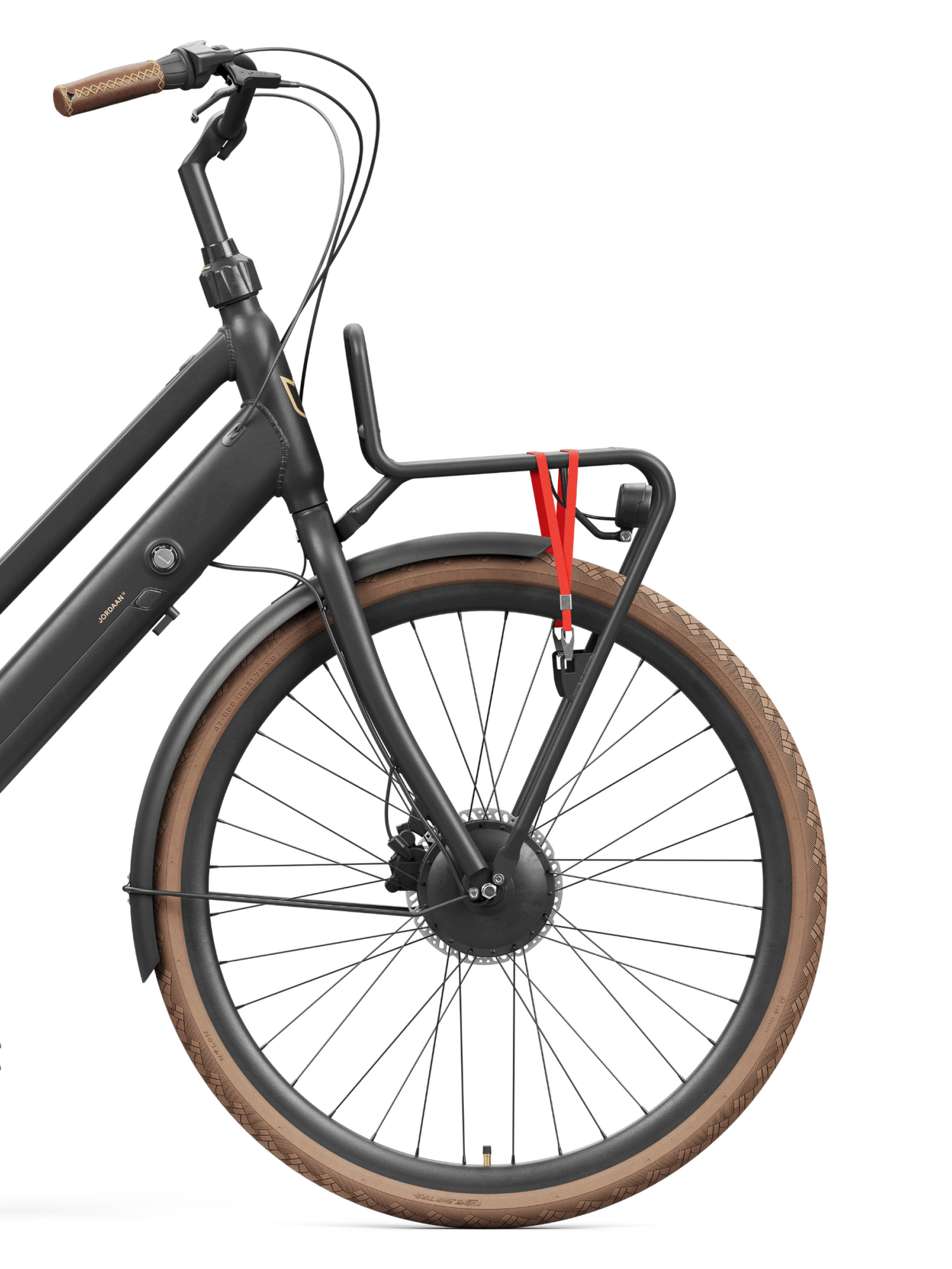 Good question. Jordaan Urban is our lightweight front motor eBike with 7-speed gearing. It's the perfect step-through commuter electric bike, agile in every urban environment, ideal for quick rides to and from work (and everywhere in between). Oh, and it's super-responsive too.

Jordaan GTS is a little heavier with a slightly larger frame. The Mid-drive motor by Bafang, together with the Enviolo integrated hub provides a heavy power boost and full control when riding.
Ah, you must be a serious electric cycling tech-head. OK here goes.

The Jordaan Urban has a powerful Bafang FM G311 Front Hub Motor to spice up your commute, make hills feel flat and effortlessly get you up to speed. The Pedal-Assist system, with 3 levels of power-assist, keeps you in full control of the 250w output. The Shimano Nexus 7 Speed gearing hub is the best fitting lightweight gearing hub that syncs perfectly with the Front Hub Motor.
One question at a time please, don't rush us. OK. First up, yes every LEKKER eBike has a removable battery, so you don't have to take the whole eBike inside for charging. Plus, upgrading or replacing's easy. Which brings us to question 2. Here are the battery specs for the Jordaan Urban.

Standard: 36v 10.4Ah, up to 373Wh capacity Range: Up to 70km
Upgrade: 36v 14Ah, up to 504 Wh capacity Range: Up to 100km
Go for it. You can take it on the road, off the road, on gravel and through light mud. All-purpose for everyday cycling (but the experience is far from same-old, same-old). But it's probably best to stay off the mountains and hardcore mudtracks though.
Well, we're not saying you can ride your LEKKER eBike into a canal or anything, but the intelligent LED button on our Urban eBikes have an IPX5 rating which means they are water-resistant as well as protected against, dust, oil and other non-corrosive material.
We're not going to answer that because it would be a Very Bad Thing To Do. We want you and your fellow road users to stay safe. And we're law-abiding people. So you need to know that riding tuned eBikes with a speed limit above 25km/h is against the law. It will void the warranty on your eBike and your insurance coverage too. Plus, it can have serious legal consequences. Like we said, a Very Bad Thing To Do.

But wait! Although your motor's capped at 25km/h, your eBike won't be gated. So if you feel the need for speed (and your legs are strong like Marianne Vos) you can pedal as fast as you want.
It sure is. Our bikes are made for babies (as passengers – babies aren't great at riding bikes). They're sturdy, light and comfortable – perfect for taking junior on an adventure. We don't sell baby seats, but we can recommend the Bobike One, which fits perfectly.
Sorry, the Jordaan Urban's motor isn't quite up to the task of hauling around your sprogs, dogs and, er, logs. But if you're looking for an eBike with more pulling power, how about the Jordaan GTS?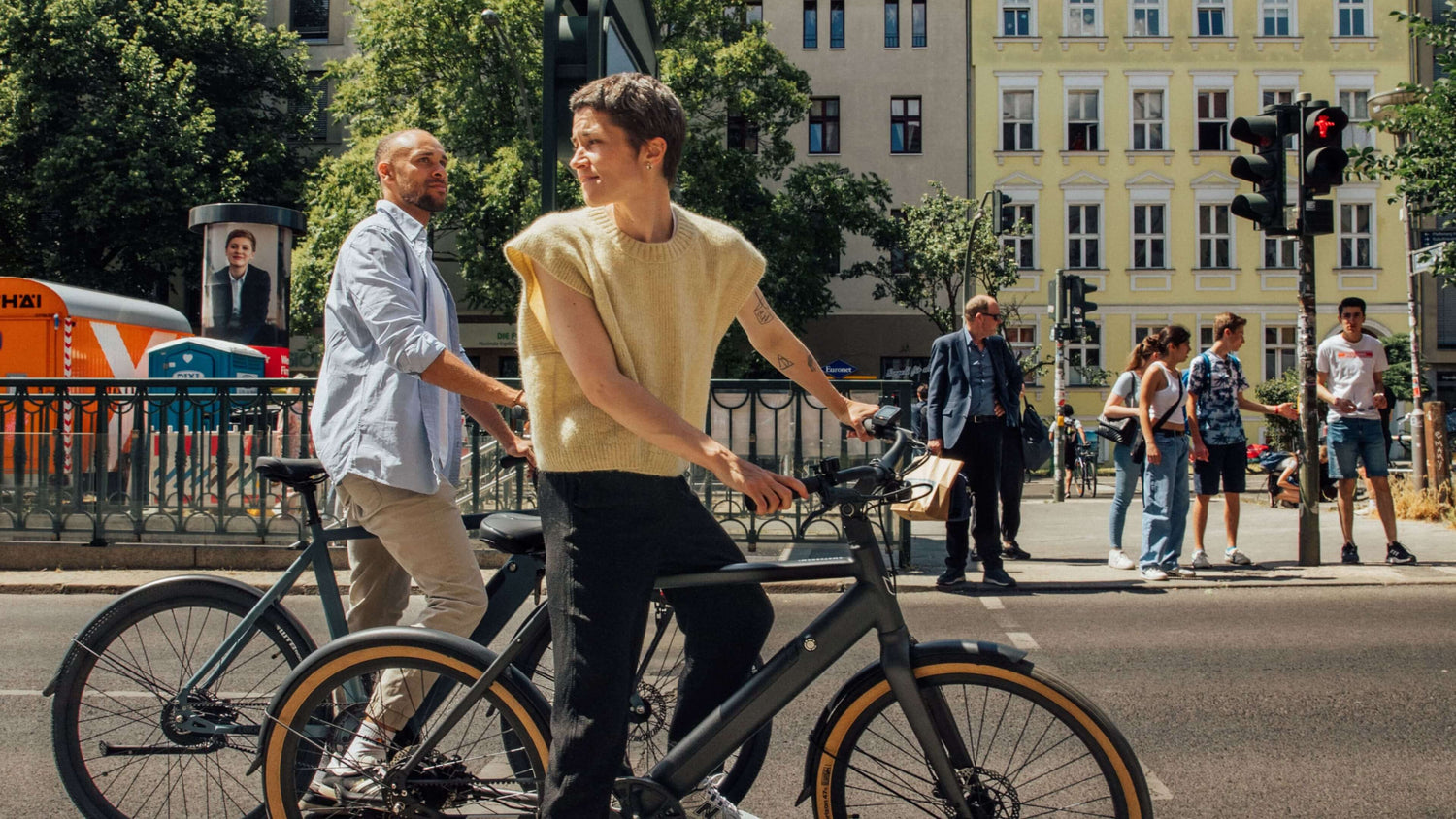 Maybe Amsterdam's more your style?
Sleek, stylish, stripped back and smooth. With its diamond frame and quiet motor, the Amsterdam eBike range is the strong, silent type. Super-powerful and lightweight, it's an amazing ride – whether you're cycling through the city or flying even further afield. It's a big world out there. On your marks, get set, go go go!
Don't just take our word for it