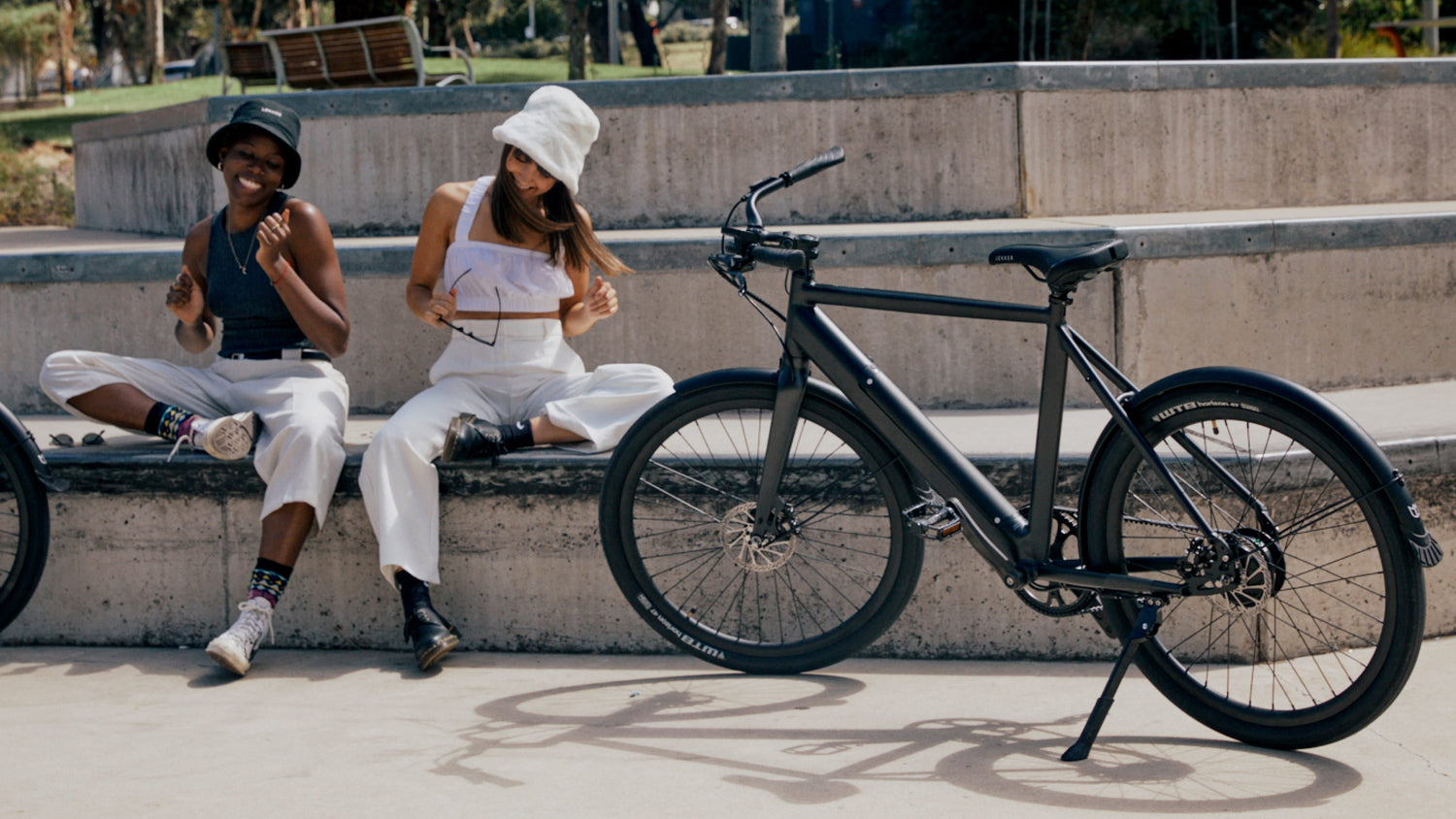 Do you have a question?
See below our list of FAQs
Delivery and returns
Sure, just hit us up within 24 hours. Please attach your order reference when you contact us for swift handling of your inquiry. Contact our customer service team via email at info.au@lekkerbikes.com or give us a call at 03 4828 3208.
You will receive a tracking number when the item is dispatched. You can also always contact our customer service for the latest intel on your order. You can reach us via email at info.au@lekkerbikes.com or give us a call at 03 4828 3208.
Refunds will be authorized once our mechanic has inspected the returned bike. Please be aware this process can take up to fourteen (14) business days once the bike is received at our store. Refunds will be issued as soon as the bike has received approval from our mechanic. Refunds may take 1-2 billing cycles to appear on your credit card statement, depending on your credit card company. We will notify you by email when your return has been processed. Please read more on our Returns & refunds page.
It's not that difficult, we promise. You'll need to assemble the pedals, handlebar and seat yourself, you'll also have to check the brakes and gear system. Check out our assembly page here.
We offer a 14-day return policy. You have a good two weeks or 50 km to ride to try your bicycle, whichever comes first. Please note that shipping costs are non-refundable and that an additional shipping fee may apply for returning your (e)Bike back to us. Simply send us an email at info.au@lekkerbikes.com. We strongly advise to keep the box in case you have doubts, as this will simplify the return shipment massively, and save some double packing. You'll receive a prepaid returns label and you can schedule a pick-up at a time which suits you. Read more.
Our apologies! Please contact our customer service team via email at info.au@lekkerbikes.com or give us a call at 03 4828 3208, and we'll do our best to solve the issue to your satisfaction.
Shipping costs:
Conventional Bikes - $52.00
Electric Bikes - $68.00
Accessories - $18.00

Please visit our Shipping page for more information.
We offer you two easy ways to start cruisin'; Feel like picking up your bike 100% assembled and ready to go? No problem. Just pick-up and cruise! Visit our Melbourne, Sydney, or Brisbane Brand Stores to grab your new LEKKER Bike. You can also get your bike delivered to your door step with just a few finishing touches to tick off before you are ready to ride. Read more on our Shipping Page.
When picking up your new bike at one of our brand stores you need to bring proof of payment (meaning the receipt you received by email when ordering your bike online). You also need to bring your ID.
LEKKER Bikes: Who are we?
Taking our inspiration from our own Dutch cycling heritage, added with the experience of living in the midst of a bicycle revolution on the shores of Australia, we have blended the latest technology, chicest trends and feedback from urban cyclists worldwide to fulfil our mission: to provide people with a bicycle at a reasonable price without sacrificing the most important aspects of enjoyable riding – quality and aesthetics. Expressed seamlessly through a combination of elements taken from both Dutch cycling heritage and Australian beach culture we at LEKKER care about the way you get around town, every day. It's merely the best possible way to enjoy your city, journey, and destination.
Launched early 2009, our Amsterdam based bicycle brand LEKKER has captured the attention of urban cyclist worldwide. We have taken the widely acclaimed Dutch Bicycle Design – that has been part of our culture since 1885 – and added modern day technology to offer everything a daily commuter could only ask for. This resulted in a striking range of LEKKER Bicycles to inspire the world to embrace cycling like the Dutch. It was founder Meindert who left Amsterdam for Australia's Bondi Beach and immediately fell in love with all that Australia has to offer. But, there was just one thing missing: his bicycle. A commuter bike that he could ride to and from the beach, to Varsity, to the market, to his buddy's house, and then home. Meindert wanted a Dutch-design bike, but finding such a two-wheeler proved to be difficult, and he ended up buying a bike from one of his Dutch friends. Enthusiastic responses to his bike from Australians inspired him to bring a quality, beautiful, stylish and, above all, cool bicycle to Down Under. He wanted to create a bike that would ride and look like a dream. The series of bikes took shape in late 2009. No word could better describe what he had always envisaged the bike to be: LEKKER. In other words: Born in Amsterdam, Raised in Australia.
LEKKER Bikes stands for premium quality, based on our widely acclaimed Dutch Bicycle Design. Yes, we're not the cheapest, but we believe bikes should be built to last. Our bikes come with everything a modern-day commuter could only ask for; premium 100% aluminium and lightweight frames, rustproof materials and premium components. Carefully selected and designed at our Amsterdam and Melbourne offices, with parts sourced worldwide, our products embody style combined with a practical approach in its purest form.
Questions regarding orders and shipping
Questions before you order
Your bikes come almost totally assembled. You'll just need to make some small, simple adjustments to make sure it's ready to ride and that it suits your riding position and requirements. Please refer to the manuals to see how to complete the finishing touches on your bike. If you have any difficulties or questions, we're always available to assist.
Our conventional bikes weigh anywhere from 13 to 17 kg, depending on model and size of the bike. Our electric bikes weigh between 19 kg and 26 kg (incl. battery). What makes us different from many other bike brands is that all LEKKER models' frames and front forks are made from 100% rust free and lightweight aluminium. Lightweight bikes are easy to carry and handle, making it easy peasy for you to bring your LEKKER ride inside if you don't have the option to park it outside.
If you want to take (small) kids with you on your LEKKER Bike, we recommend a Jordaan+ or a Jordaan GT. These have a slightly longer wheelbase, which gives more space for a child seat. They are sturdy, light and comfortable - perfect for taking junior on an adventure. You can also install a baby seat onto the rear rack of any Amsterdam eBike! It is all up to you. We don't sell baby seats, but we can recommend the brand Hamax.
All our bikes come with the essentials: kickstands, fenders, and front and rear lights (all lights are integrated on our eBikes). The Jordaan electric bikes range includes aluminium front and carrier racks. Each product page mentions the accessories that are included as standard.
You can book a test ride slot at one of our brand stores (Melbourne, Sydney, or Brisbane) to take your (e)Bike of choice for a spin. Ready to take the leap? Don't forget we have a 14-day return policy, meaning you'll have two full weeks to get to know each other before deciding if it's a fit. If not, simply return your bike in the original packaging and condition and get a full refund. Not that you'll want to, we're excellent matchmakers.
Our bicycles are designed with simplicity in mind and fit a wide range of riders. As long as you are no shorter than 155cm and no taller than 210 cm, we will have a LEKKER Bicycle perfect for you. Just scroll down to the bike product page you are interested in, and check the size chart for exact measurements. If you have any doubts, just contact us so we can help you in making the right decision. You can reach us via email at info.au@lekkerbikes.com or give us a call at 03 4828 3208.
Your safety and that of your fellow road users is of utmost importance. LEKKER is committed to responsible eBiking in line with applicable laws and regulations. Riding tuned eBikes with a speed limit above 25km/h is against the law, will void the warranty on your eBike, insurance coverage and can have serious legal consequences. The LEKKER team will therefore not answer any questions on the (possibility of) tuning of eBikes.
Services
Although we have designed and built your LEKKER Bike to stand the test of time, it does need some regular love and care. We advise you to give your bike some proper attention every 2-3 months and bring it to a professional bike mechanic once every year. It will significantly improve your comfort, safety and your bikes' health.
Each LEKKER Bicycle features a unique serial number that identifies the make and the model of the bike. You'll find the serial number just underneath the bottom bracket of the bike where the crank arms meet the frame. For the GT ebike you can find the serial number behind the front sprocket.
If you live in Australia, you can register your bicycle with the National Bike Register which was initiated by Police to combat bike theft. The best chance of recovering a stolen bicycle is by having a registered serial number. We strongly recommend registering the serial number of each LEKKER Bicycle in your ownership.
You can service your LEKKER Bike at any local bike store or dealer. We use components which are easy to replace and source, and all bike dealers have access to. We're also happy to get you up to speed on servicing your own bike – simply contact us for assistance via phone or email - or let us refer you to a bike service shop.
LEKKER wants to ensure a lifelong battery life for your electric bike. Find our guidelines on battery health and see how you can take care of your battery. Taking care of your ebike has never been so easy!
Stores and resellers
Sure. Just select store pick up upon check out on the website. Just come and pick-up your bike at one of our brand stores and your good to go! If you choose to have your bike delivered to one of our stores, there won't be any additional charges. As soon as your bike's ready to be picked up, we'll let you know via email notification or phone call. We'll help you adjust the seat and handlebar.
Yes! Our entire collection is available for testing in our Melbourne, Sydney and Brisbane Brand Stores.
You can find our brand stores in Sydney, Melbourne and Brisbane. Please find our Brand stores locations on our Store locator page.
Warranty
LEKKER Bikes offers a 3-year guarantee on frames. We also provide a 2 year warranty on various bike components, from the day of purchase. Please read more on our Warranty page and T&C page for more details and information.
Couldn't find the answer?